UFOs, crop circles & MIDIM :
phénomènes mystérieux élucidés

(by Daniel Harran)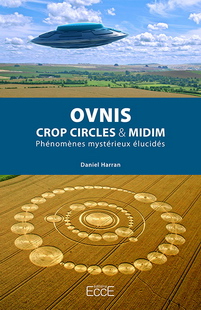 UFOs, crop circles & MIDIM :
phénomènes mystérieux élucidés
(by Daniel Harran)
394 pages
Publication in May, 2016
Back cover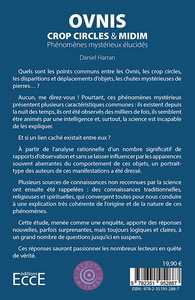 What could UFOs, crop circles, abductions, objects being displaced, falling rocks… have in common?
One would say nothing, and yet, there are several features that are common to these mysterious phenomena: they have existed from the dawn of time, they have been observed thousands of times, it looks as if they are prompted by a thought and first and foremost, science can't account for them.
What if there was a secret connection between them?
In an effort to go beyond the often absurd-looking behavior patterns of such objects, a noteworthy number of reports have been examined rationally, which has made it possible to draw up a typical portrait of the authors of such events.
Several sources of knowledge that do not fit the contemporary standards of science have been examined later on: traditional, religious and spiritual knowledge upon the topic that are all along the same lines, which has led us to account quite consistently for the nature and the origin of these phenomena.
This survey which has been devised as an investigation provides answers to a great number of mysteries that had remained unresolved so far, answers that are both novel and amazing and yet, always rational and clear.
These answers will definitely fascinate many readers searching for truth.