Crop circles: the Chilbolton revelation

(by Daniel Harran)
Back cover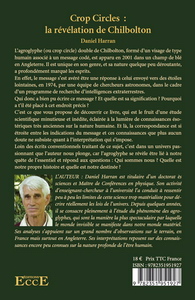 Chibolton twofold cropcircle, composed of a human-looking face next to a coded message, was found in 2001 in a wheat field in England. This is a unique model whose disconcerting nature has had a great impact on people's minds.
Actually, the message turned out to be a reply to a message sent in 1974 to stars lying far away by a team of researchers in Astronomy, within a program of research into extraterrestrial intelligent beings.
Who then could have written such a message? And what could its meaning be? What had it been devised at that very spot for?
This is what you are invited to find out about in this book, which is the fruit of a precise and novel scientific research, in the light of very ancient esoteric elements of knowledge upon human nature. Now here, both the message and these elements of knowledge are so perfectly in tune that there is no doubt left about how to interpret it.
Far from conventional written information upon the subject, the author immerses us into a fascinating universe for this cropcircle proves to be in connection with our quest for what is essential, and is a response to the following questions: Who are we? What about our own story and destiny?
THE AUTHOR: Daniel Harran is a Doctor of Science and a university lecturer in Physics. His work as a teaching researcher has led him into feeling gradually the limits of the overly materialist science in going deeply into the study of the laws of the Universe. He has for many years entirely devoted his time to the study of the cropcircle phenomenon that are the most spectacular way through which the invisible world manifests itself to our material world. His studies are based upon many field observations, in France and above all in England. His interpretations are based upon elements of knowledge that are still little known, about the deeper nature of the human being.